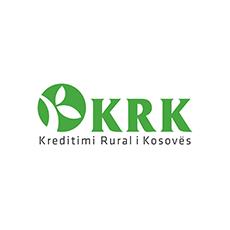 KRK
KRK - Kreditimi Rural i Kosovës
Mission:
The mission of KRK is to provide access to financial services to individuals in rural and urban areas of Kosovo and at the same time to build a successful microfinance institution that would influence the development of agriculture and the country's economy in general.
Geographic coverage:
KRK has its headquarters in Prishtina and has 23 branches in the following municipalities: Burim, Deqan, Ferizaj, Gjakove, Gjilan, Gllogoc, Kacanik, Klina, Lipjan, Malisheve, Mitrovice, Peje, Podujeve, Prishtine, Prizren, Rahovec, Suhareke, Viti, Vushtrri, Shtime, Skenderaj, Dragash and Kamenice.
Competitive environment:
About 60% of Kosovo's population is rural.
Lending activities of commercial banks have increased but further the share of agricultural loans in their portfolios remains low. They are concentrated in large businesses and mainly in urban areas.
Based on this we can conclude that the banks' credit bids for the rural area are disproportionate to the demand for loans, therefore KRK claims to fulfill this gap. Lack of credit supply has to do with the biased risk and lack of profiling of agricultural activities and the difficulties faced by this sector of the economy in the present circumstances.
Shareholder Structure and Governance:
Kreditimi Rural i Kosovës, LLC, is a joint stock company consisting of the following shareholders
-EFSE, Luxembourg,
-FMO, Netherlands,
-Credit Cooperatif, France, and
-SIDI, France.
Kreditimi Rural i Kosovës, LLC, is governed by the Executive Board composed of five members and its Chief Executive Officer.
Mid-term objectives:
Further geographic extension in response to the demand for agricultural activity for loans in the areas where KRK operates and abroad for the purpose of increasing the economic and social impact of RKR in rural development, modernization of agriculture and better local services for agriculture remains an objective permanent.