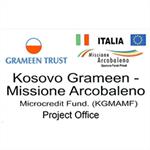 Kosovo Grameen - Missione Arcobaleno
Kosovo Grameen Missione Arcobaleno
Kosovo Grameen Missione Arcobaleno is a replication Project of Grameen Bank, Bangladesh.
It works in Kosovo as an international NGO.
KGMAMF was established in 1999 with financial assistance of Missione Arcobaleno of Italy.
Grameen Trust of Bangladesh is an implementing organization.
At present KGMAMF is one of the leading Micro Finance institution in Kosovo.
It covers 201 villages and 20 municipalities in Kosovo.
100% borrowers are women.
OBJECTIVES:
To make credit facilities available to those who have been adversely affected by the war in Kosovo.
To create self employment
To engage the women' in various income generating activities
To empower the women.
To demonstrate that micro credit can play an important role in helping poor people, particularly women, to get back on their feet in a war ravaged economy.
TARGET GROUP
Poorest or low income victims of the war particularly who lost their homes and other assets.
Who were displaced, unable to return to their homes and living as refugees.
Social cases
Women whose family members were missing or whose husband were killed in war.
Të zhdukur apo burrat e të cilave ishin vrarë në luftë.
CREDIT DELIVERY & RECOVERY SYSTEM
Borrowers are organized into small groups of 5 women
Loan is considered as individual
Collateral is not required for the loans.It is given based on trust and solidarity among the group members.
The borrowers choose their investment activity
Repayments are made by bi-weekly installment at their own village level centre.
Financial services to the village people doorstep.
OVERCOMING THE CHALLENGEES
The economical and political situation is Kosovo was in turmoil when project was started
The project began in very challenging circumstances
Women and children were suffering both economically and emotionally from the traumatic conflict
Houses and business were damaged
Thousands of peoples were displaced
The mountainous terrain of Kosovo was an additional obstacle.
Land minds littered all over the region also posed a big threat to the population
The security of the rural area was also questionable.
Traditionally women were completely ignorant about running a business.
By frequent field visit and motivational effort of the international staffs overcome all the challenges.
PROJECT PERFORMANCE
KGMAMF has completed 17 years of operation in Kosovo with total outreach of 22,891 members
Very significant changes can be seen in the lives of its members.
KGMAMF has bought new hope to the survivors of the Kosovo conflict by helping them to develop their business skills with the help of micro finance.
AT A GLANCE UP TO December 2017
Total no. of Branch – 4
Total no. of members – 22,891
Total no. of borrowers – 3,796
Total disbursement – 81.57 (Milion Euro)
Total recovery – 75.05 (Milion Euro)
Total outstanding – 6.52 (Milion Euro)
Total village covered – 201
Total municipality covered – 20
Repayment rate – 100%
Number of loan activity – 75

FUTURE OF KOSOVO
There is huge demand in ground
The borrowers are very sincere
The borrowers are really wants to do something.
Need to patronized by the Govt.
Need to open more industry>
IMPACT ON KGMAMF
Creation of self-employment opportunities which about an income Improvement of the overall status of the women in the house hold as well as in the local community Increase of family income
Active participation of women in various decision making process.
Strengthen of group solidarity and social integrity
Revival and improvement of traditional handicrafts
Strengthen of group solidarity and social integrity
Revival and improvement of traditional handicrafts
Increased level of confidence among the borrowers
Awareness about the rights of women and children and the importance of education, family health care.
FUTURE PLAN
To increase outreach up to 5000
To disburse near about 70 million euro in next five years
Now KGMAMF as a sustainable organization
To introduce new loan products
To build local capability
FEW WORDS ABOUT GRAMEEN TRUST
GrameenTrust(GT) came into being in1989
It is a private,nonprofit and non-government organization
Nobel Laurate Professor Yunus is the founder of Grameen Trust (GT)
OBJECTIVES OF GT
To support and promote Grameen type programs to reduce poverty
To provide training and technical assistance to national and international organizations to support GB replication initiatives
To organize and operate Grameen types micro credit institution around the world
To build an international network of concerned people and institutions working in the field of poverty alleviation and providing financial service to the poor
To promote and operate health and sanitations service for the benefit of the poor
At present GT give technical and financial assistance
At present GT give technical and financial assistance to 120 Projects in 68 countries.
LIMIT OF OPERATION
FUND PROBLEMS
NEED TO GIVE PERMISSION FOR MOBILIXING SAVINGS.
NEED TO COOPERATE BY LOCAL AUTHORITY.
CREATING WHOLESALE ORGANISATION WHICH WILL TAKE FUND FROM THE DONORES & GIVE TO THE MFI'S.
CREATUNG MICRO CREDIT REGULATORY COMMISSION WHICH WILL PROVIDE ALL SUPPORT TO THE MFI'S.